Serving as the primary departure point for ferries to the entire Aegean region, it's crucial to familiarize yourself with certain particulars before embarking to ensure a smooth and hassle-free experience. The distance between Gate E10 and E1, for instance, spans nearly 5 kilometers.
Your foremost consideration should be identifying the departure gate for your specific ferry. The gates with the highest passenger traffic, specifically those bound for the Cyclades and Argosaronicos islands, are conveniently situated in proximity to the ISAP and Metro stations.
The port has ten gates and are designated as follows: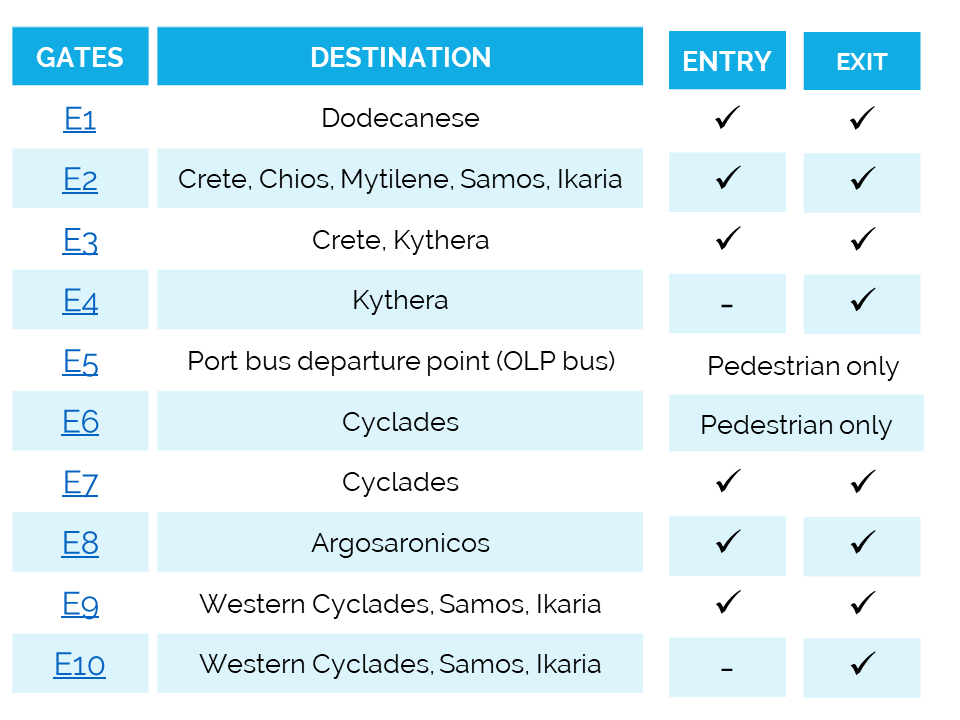 If you're traveling with your vehicle, it's essential to queue up for ferry boarding. Once it's your turn, follow the guidance provided by the staff to navigate past the catapult and securely park in the garage. This process can be time-consuming, so arriving early is advisable.
When arriving with your vehicle, it's crucial to be well-informed about the location of your designated gate. The nearby streets tend to be congested, potentially causing unnecessary delays. Furthermore, the port lacks spacious roads to accommodate vehicle traffic. Distances between gate E10 and the footbridge (gate E5) are relatively short, primarily serving small and medium-sized ferries.
On the other hand, the area from E4 to E1 accommodates the largest ferries heading to Crete, Dodecanese, and the Northern Aegean, necessitating expansive piers. These ferries can surpass 200 meters in length, highlighting the significant space required for docking and maneuvering. Consequently, considerable distances are involved, and a dedicated bus service is available, which I will elaborate on below.
Departures to Cyclades
The Cyclades constitute a cluster of Greek islands situated in the southeastern part of the Aegean Sea, positioned to the southeast of the Greek mainland. These islands are renowned as one of Greece's most sought-after tourist destinations, celebrated for their picturesque white-washed villages, breathtaking beaches, crystal-clear waters, and lively nightlife.
For travelers heading to the western Cyclades, gates E10 and E9 serve as entry points, while gates E7 and E6 are designated for those venturing to the remaining Cyclades. At the piers, you'll encounter a variety of ferry options, including:
Seajets Aqua Jewel, Tera Jet, Champion Jet 2, WorldChampion Jet, Zante Ferries, HighSpeed 4 by Hellenic Seaways, Golden Star Ferries, and Blue Star Myconos.
The larger vessels, such as Blue Star Naxos, Blue Star Paros, and Blue Star Delos, dock at the inner port (E7) due to their size.
From this port hub, you can conveniently access numerous Cyclades destinations, including Syros, Tinos, Mykonos, Paros, Naxos, Kythnos, Serifos, Sifnos, Milos, Kimolos, Folegandros, Sikinos, Ios, the Lesser Cyclades, and Amorgos. 
Facilities at the piers include indoor and outdoor waiting areas, as well as several dining options for your convenience.
It's worth noting that you can also reach the Cyclades by taking ferries destined for the Dodecanese islands and the North Aegean. These ferries make stops at Syros, Paros, Naxos, Mykonos, and Santorini along their routes. Departures for these routes can be found at gates E2 and E1.
Departures to Argosaronicos
From this location, ferries set sail for Aegina, Agistri, Methana, Poros, Hydra, Ermioni, Spetses, and Porto Heli. These ferries are typically smaller in size compared to others in the port, primarily because the Saronic islands are nearby and less exposed to the challenging conditions often encountered in the Aegean Sea. 
Specifically, gate E8 is positioned amidst the gates serving the Cyclades islands. Here, you will find a lineup of vessels that includes the flying dolphins operated by Aegean Flying Dolphins, Saronic Ferries' Posidon Hellas and Antigone, Aero Highspeed, Flying Cat, and Speed Cat.
This pier shares common waiting areas and canteens with the Cyclades gates due to its central location.
Departures to Northern Aegean
If you're planning to travel to the Northern Aegean region, gate E2 is your departure point for Chios and Mytilini, served by the ferry Nissos Samos. 
Meanwhile, for destinations within the Cyclades, gate E1 hosts Blue Star Chios, providing routes to Samos, Fournoi, and Ikaria. Both gates have passenger facilities and dining options for your ease.
Departures to Crete
Gate E3 serves as the designated area for the ferries heading to Crete, boasting some of the largest vessels within the port. Among these prominent ferries are Elyros, Kriti II, Festos Palace, Kydon Palace, and Blue Horizon. Their names alone unmistakably indicate their strong connection to the island of Crete.
However, it's important to note that currently, gate E3 is
temporarily closed
, and access to this point can be gained through gate E2.In the near future, you may inquire about the reopening of gate E3 at the ticket booths for the most up-to-date information.
Departures to Dodecanese
Departures to the Dodecanese islands are located at the farthest gate, which is E1. Here, you'll find ferries such as Blue Star Diagoras, Blue Star 2, Blue Star Patmos, and Blue Star Ariadne departing for various destinations within the Dodecanese archipelago. These destinations include Astypalaia, Patmos, Lipsi, Leros, Kalymnos, Kos, Nisyros, Tilos, Halki, Symi, Kassos, Karpathos, and Kastellorizo. Additionally, there is a passenger station available at this location for the convenience of travelers.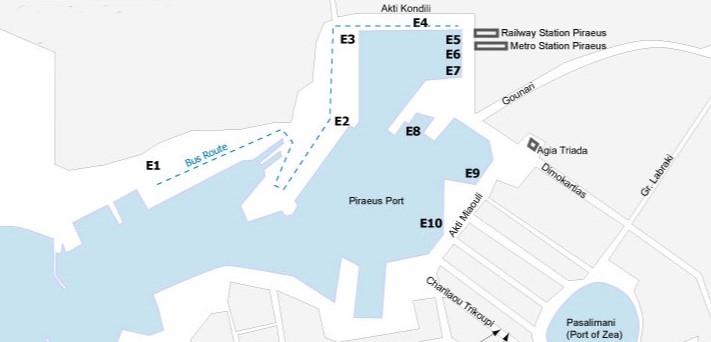 Ticket booths
Ferry port agents can be conveniently located both within and in the vicinity of the Port of Piraeus. Each shipping company has ticket booths located at their respective gates, allowing passengers to purchase tickets or print e-tickets if necessary. Rest assured, you shouldn't encounter any issues in this regard.
Furthermore, it's worth noting the presence of ticket vending machines at the Minoan Lines ticket booth located at gate E2.
Waiting areas –  Canteens
At all gates, you'll find waiting areas, some of which are open-air with awnings to provide shade, while others offer indoor spaces with air conditioning for your comfort. Restrooms are also available at each gate for your convenience. Additionally, there are canteens located primarily in the Cyclades-Argosaronicos section. In other areas, you can find one canteen near gate E4 and two more situated at gate E2.
Port bus 
The Piraeus Port Authority operates a complimentary shuttle bus service within the port. The bus starts its route from the main entrance, conveniently situated near the port station. At this location, electronic display boards provide real-time updates on bus waiting times, assisting passengers in planning their journeys effectively. The shuttle service links Gate E7 to Gates E1, E2, and E3, adjusting its route based on the arrival and departure schedules of ships.
Parking lots
Parking spaces at the Cyclades and Argosaronicos gates are relatively limited. However, from gate E3 to E1, there is significantly more available parking space, and traffic congestion tends to be lower in this area.
Furthermore, there are several private parking lots situated in the vicinity of the port, offering additional parking options for travelers.
It's essential to be aware that gate assignments for ferries may change, so it's advisable to verify the current information with the port authorities or your ferry company to ensure you have the most up-to-date details regarding gate locations and parking arrangements.
Transfer from and to the Port of Piraeus, Athens International Airport (ATH)
It's recommended to verify transportation costs beforehand to guarantee that you have the latest and most precise information prior to finalizing your travel plans. Given that prices can fluctuate, staying well-informed enables you to plan and manage your travel budget efficiently.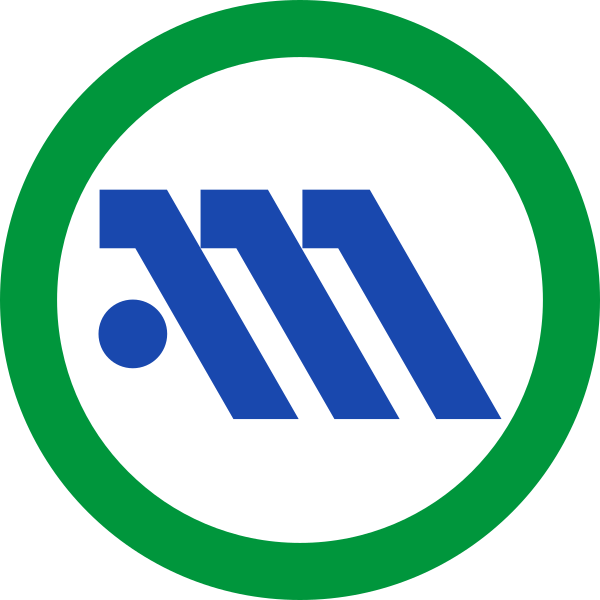 By Metro:
Traveling from the Port of Piraeus to Athens International Airport, which is approximately 45 kilometers away, is a straightforward process via the metro system. Here's how to do it:
Head to the metro station located across the street from the airport's entrance.

Board the metro line that connects the airport to the city center and the Port of Piraeus, which is the blue line.

The metro journey takes about 1 hour to reach the airport.

The one-way ticket fare is €9, while a round-trip ticket costs €16.

Metros depart from Athens International Airport approximately every 30 minutes.
Keep in mind that the metro service operates from 5:30 in the morning until midnight.
By Bus:
An alternative transportation option between Athens International Airport and the Port of Piraeus is provided by bus line X96. This express bus service operates around the clock and departs approximately every 20 to 40 minutes, with the frequency varying based on the time of day and the season.
The cost of a ticket for this bus service is €5.5, and the duration of the journey is typically about 1 hour and 30 minutes, although this can vary depending on traffic conditions. Bus line X96 offers an economical and reliable way to travel between the airport and the port, especially for those seeking a budget-friendly option.
By Taxi:
Taxi ranks are readily available throughout the entire port, even at the farthest gates, ensuring you won't encounter any difficulty in finding one. These taxi stands are easily recognizable with their distinctive yellow awnings. It's important to note that the taxi fares are fixed and predetermined solely for transfers to and from Athens Airport "Eleftherios Venizelos." 
A taxi ride from Athens International Airport to Piraeus is priced at €54 during the daytime hours from 05:00 to 24:00. If you require a taxi during the nighttime period from 00:00 to 05:00, the fare is €70. These rates provide a convenient but slightly more expensive option for traveling between the airport and Piraeus.
It's always advisable to check transportation prices in advance to ensure you have the most accurate and up-to-date information before making your travel arrangements. Prices can vary, and staying informed helps you plan and budget effectively for your journey.
Published on October 26, 2023