Maximizing the time in Athens between disembarkation from the cruise ship and your returning flight.
Your wonderful cruise to the Greek islands came to an end and you have that bittersweet taste. Soon you will have to disembark at Piraeus Port and take a late flight back home from Athens Airport. Fortunately, you still have a few hours to spend in Greece, but conversely you consider all the logistics issues that come up with carrying a bag around the city. Carrying luggage is a hassle, it takes more time to move between locations and limits you in a specific area. If you decide to leave your bags at a locker and walk around the city, you need to make sure to allow enough time to return to the baggage locker and reach the airport well in advance of your flight. You should take advantage of every minute of your well-deserved vacation. Especially since in Athens there is Baggagement with the amazing baggage service. In Baggagement we pick up your luggage from Piraeus Cruise Port Terminal at the time you disembark and we deliver them to the Athens Airport at the time of your flight check in. Let's have a look at how your last day of your cruise travel would look if you use Baggagement service.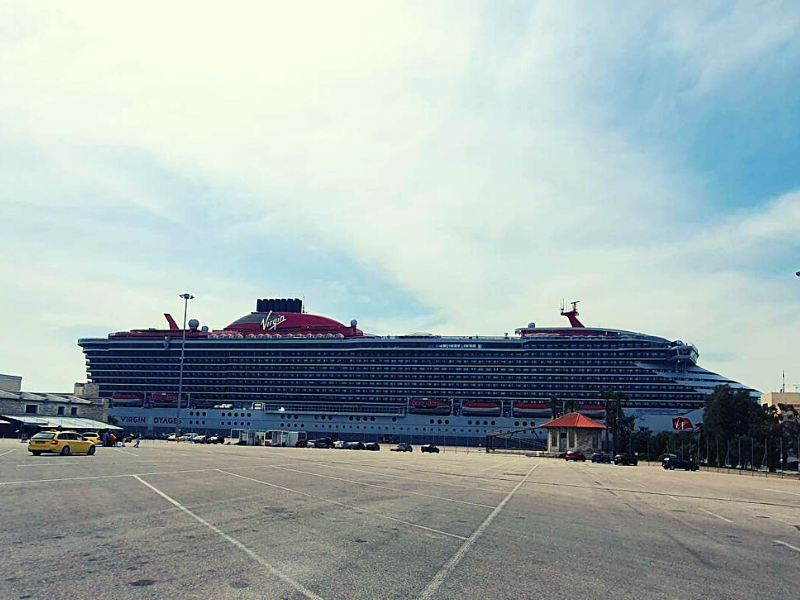 Cruise ship _ Baggagement
Before The Disembarkation
As soon as you know your itinerary, you book online at baggagement.com your baggage pickup. Since summer is a pick period, the earlier you book the service the better the availability will be. You will need a few information to create your order:
Date and time of baggage pickup
Cruise ship name
Terminal name of Piraeus Port
Number of baggage
Date and time of baggage delivery
Flight number
Εmail address
Phone number
We ask for all these details so we can ensure that you will experience a seamless baggage transfer service. Our representative will communicate with you just before your arrival to confirm all the above.
Day Of The Disembarkation
Our representative will wait for you at the terminal of your cruise ship in Piraeus port at the predefined time that you requested. She/He will put the baggage tags that contain a unique QR code with all the details of your order and place them inside our van.  Then you will receive a confirmation email that your bags have been collected, confirming the procedure. Your bags will be safely stored. The best part starts now. You are free to enjoy Athens without your baggage dominating your itinerary. A few examples on how to spend your day depending on your available time.
Piraeus Revealed
If you only have a couple of hours to spend before going to the airport you might as well stay in Piraeus. At first glance the port city doesn't seem to have a lot to offer but there is an undiscovered side of Piraeus worth discovering.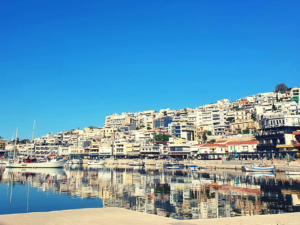 Mikrolimano_Baggagement
Visit the Archaeological Museum of Piraeus that showcases a comprehensive and authentic portrayal of the city's history. In ancient times, Piraeus thrived as the main trading hub in the Eastern Mediterranean and served as a naval shipyard for ancient Athens.
Explore Microlimano meaning "small port" in Greek, lives up to its name as a charming harbor. Brimming with upscale restaurants, quaint fish taverns, and trendy cafés, this ancient port has evolved into a bustling hotspot that thrives day and night.
Walk by Pasalimani, also known as Marina Zeas among locals, is a charming small harbor nestled in the heart of Piraeus, just a short distance from Mikrolimano. This picturesque port boasts an array of luxurious yachts, but you'll find a vibrant mix of millennials unwinding by the waterfront, enjoying a refreshing beer.
Go shopping, the city is full of shops of every kind, making it a popular spot for shopping enthusiasts. One notable area is Sotiros Dios, a pedestrianized street that runs through the heart of the city. This vibrant street is adorned with clothing boutiques, cosmetic stores, and shoe shops on both sides, offering a wide range of options for fashion enthusiasts. Also by the Port you can find local food stores "mpakalika" that sell traditional organic Greek products, like herbs, olive oil, honey and soaps.
Visit Athens
With the opening of the metro station in Piraeus port you can go directly to Athens city center in less than 20 minutes. Exploring Athens in just one day is a daunting task due to its rich history, vibrant culture, and modern charm. However, you can managed to visit the must-see attractions and still found time to savor a delightful meal.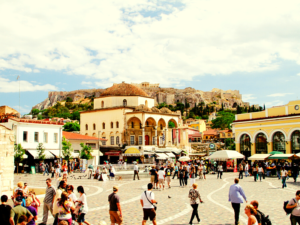 Monastiraki_Pexels-jeff-stapleton-5792807
Explore the Acropolis that is a must-visit attraction in Athens. You can explore the ancient ruins, including the iconic Parthenon, and enjoy panoramic views of the city from the top. Keep in mind that it can get crowded, so it's advisable to arrive early.
Visit the Acropolis Museum that is located near the Acropolis. The Acropolis Museum is a modern museum that houses a collection of artifacts from the Acropolis archaeological site. It provides valuable insights into the history and culture of ancient Athens.
Stroll through Plaka, a charming neighborhood located at the foot of the Acropolis. It's known for its narrow streets, traditional houses, and numerous shops, cafes, and restaurants. You can spend some time exploring the area, shopping for souvenirs, or enjoying a traditional Greek meal.
Discover the Ancient Agora that was the central gathering place in ancient Athens and played a significant role in the city's social and political life. You can explore the ruins, including the Temple of Hephaestus, and get a glimpse into ancient Greek civilization.
Take a walk in the National Gardens: Located near the city center, the National Gardens offer a peaceful retreat from the bustling streets of Athens. You can take a leisurely walk, relax in the shade, and enjoy the beautiful greenery.
Exploring the shopping scene in Athens that has a plethora of options to cater to your every shopping desire. Ermou Street, located beneath Syntagma Square, unfolds as a charming pedestrian thoroughfare, boasting an extensive array of shops offering a diverse range of merchandise. For enthusiasts of luxury, the central district of Kolonaki in Athens, coupled with the renowned Voukourestiou Street, is sure to exceed your expectations with its extraordinary creations that transcend imagination.
Discover the Monastiraki Flea Market. If you're interested in shopping or browsing for unique items, head to the Monastiraki Flea Market. You'll find a wide variety of shops selling antiques, jewelry, clothing, souvenirs, and more.
Taste Greek cuisine. Athens offers a wide range of dining options where you can indulge in delicious Greek cuisine. Try traditional dishes such as moussaka, souvlaki, or Greek salad at a local taverna.
Enjoy the day by the beach
A short tram ride from Piraeus to the south and you are going to be surprised how close to a number of superb beaches that are well worth your visit you are. Stretching for approximately 30 miles along the Saronic Gulf, the Athenian Riviera extends from Piraeus to the legendary Cape Sounion, a place steeped in Greek mythology and the southernmost point of this remarkable peninsula. As a general rule, the farther one travels from the city, the more pristine the beaches become, although with fewer amenities available.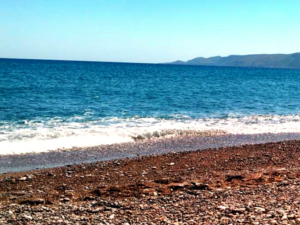 Athens_Beach_Baggagement
Here are a selection of our favorite swimming spots, categorized roughly based on their proximity to the city. However, don't hesitate to venture out and explore, as each coast is home to numerous hidden gems waiting to be discovered.
Kalamaki Beach, Kalamaki
Glyfada Beach, Glyfada
Voula Beach, Voula
Mikro & Megalo Kavouri, Kavouri
Vouliagmeni Beach, Vouliagmeni
Limanakia, Vouliagmeni
Varkiza Beach, Varkiza
Althea Beach, Agia Marina
Galazia Akti Beach, Agios Dimitrios
Lagonisi Beach, Lagonisi
Mavro Lithari Beach, Saronida
Agios Nikolaos, Anavyssos
Anavyssos & Palaia Fokaia beaches, Anavyssos
Thymari Beach, Thymari
Cape Sounion Beach, Sounion
With Baggagement service and a well-planned itinerary, you can make the most of your layover in Athens after your cruise, transforming it into a day filled with enriching experiences. Whether you choose to delve into ancient history, discover Piraeus, wander through vibrant neighborhoods of Athens, or indulge in delectable cuisine, the city offers something for every traveler. So, book now your Baggagement service and baggage-free and hustle free, embrace the opportunity to explore this magnificent city and create memories that will last a lifetime. Published on June 11, 2023